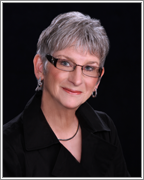 With a major in drama (not in college, but in life), Pam has always been able to see with the eyes of a child. Writing a shelf of "self-help" books to inspire disorganized moms, Pam's focus has always been on solutions to the challenges mothers have in life.
Pam and her sister, Peggy Jones, began their journey one fateful day when their lives hit rock bottom. That was the catastrophic day Peggy sent her husband to work with hair washed in Woolite and a face dyed blue. The blue face occured because she put blue, food colored water into his empty aftershave bottle, because she hadn't bought more, because she left her list at home. That same day, Pam was surrounded by 157 moving boxes all marked miscellaneous.
After converting their households from chaos to order using their unique rotating tickler file, they discovered their success was just a pack of index cards away. With wit and good humor, the real life sisters turned their affliction (they think being disorganized is genetic) into a crusade. Using their system they organized their homes and families and have helped thousands make the trek from pigpen to paradise.
The result was Pam and Peggy's best-selling book, Sidetracked Home Executives: from Pigpen to Paradise, which has sold more than 1.5 million copies. But don't be too impressed by the number as Pam is positive 750,000 disorganized moms, bought it, lost it and had to buy it again. With that book, she and her sister became known as the "Slob Sisters" and appeared on Oprah, Live with Regis, The Today Show, CBS Morning Show, Donahue, Geraldo and many other popular television shows throughout the country.
Pam has spoken to thousands of groups from a small klatch of women in a church basement to Fortune Five Hundred companies like Standard Oil and General Mills. She toured the country on media tours for Proctor and Gamble and American Express teaching with humor and insight. Her practical steps to becoming more organized and having clean, cozy, peaceful and happy homes, have helped millions of women.
Pam and Peggy collaborated to write several other books including
Pam and Peggy also produced a series of audio CDs including Pam and Peggy's Keeping in Touch and Pam and Peggy's Home for the Holidays.
Pam expanded from home organization to getting your finances in order with The GOOD Book: Get Out Debt. And she brought her practical and lighthearted writing to The Mouth Trap: the butt stops here! (Low-Carb Version), helping teach a healthy and happy approach to eating.
Pam returned to her roots of home organization with her latest book The Joy of Being Disorganized in which she reveals 80 secrets to get you organized.
Pam and her husband Terry live in Woodland, Washington, high in the foothills of the Cascade Mountains. Together, they created the House Fairy program, in order to inspire and motivate children to keep their rooms clean and neat, have good manners, and help with the family chores.
Pam is also available as a keynote speaker for businesses, churches and conventions. Her fee ranges from $4,000 to $8,000 depending on travel and time away from home.